What is Non-Fiction VR?
While cinema offers an optical illusion of movement, Virtual Reality offers a new generation of illusion - a powerful sense of being there within a scene.
Non-Fiction Virtual Reality is an emergent and rapidly evolving new medium for filmmaking that draws from - and builds upon - traditional forms of non-fiction, interactive media, gaming and immersive theatre. The VR Mediography project is compiling a detailed history of this new form of interactive experience, examining where it has come from, how it is developing and where it is heading. Our dataset currently contains 424 examples of non-fiction VR content released between 2012 and 2018.


How are we choosing what to include?
As an emergent medium, non-fiction VR is attracting highly experimental works that sometimes do not fit neatly into what might be considered 'traditional' filmmaking. Our search strategy is therefore deliberately broad, including organic search (english language), social media and the programmes of leading international film festivals. At this early stage in our research, we are including any VR piece that self-presents as non-fiction, or is referred to by a third party as a piece of non-fiction VR.


A Timeline of Non-Fiction VR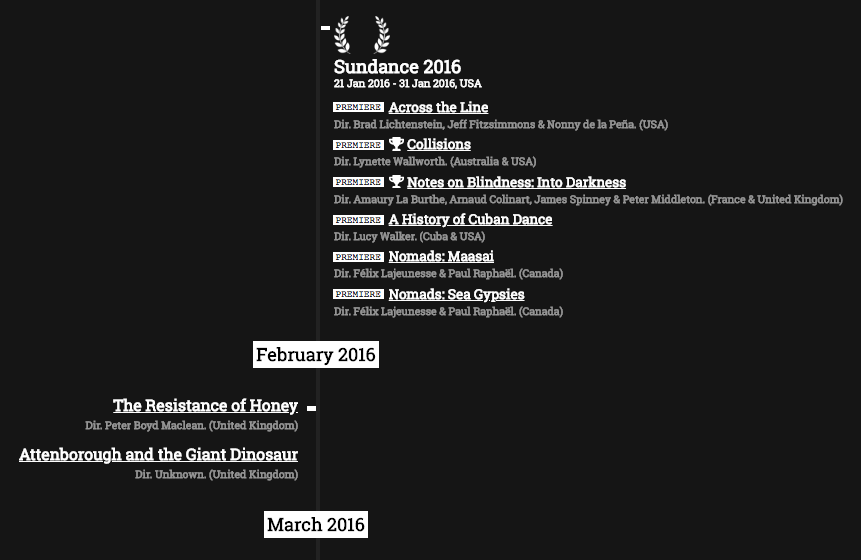 Our interactive timline charts the emergence of VR non-fiction content since 2012. The timeline shows when and where non-fiction titles where released, highlights important events, identifies award winning pieces and charts the increasing visibility of VR content on the programmes of leading international film festivals.


How much non-fiction VR content is out there?
Based on 424 titles catalogued so far, this chart shows how production numbers for non-fiction VR content have changed since the earliest known examples in 2012:


Film festivals and awards
Non-fiction VR is an increasingly visible fixture at leading international film festivals. According to our dataset, these are the most prominent non-fiction VR titles in terms of festival appearances and awards received:


Where is non-fiction VR being produced?
Our dataset currently contains titles released from 57 countries. Of the 424 titles in our dataset, the leading non-fiction VR producing countries are: USA (51%) , United Kingdom (20%) , Canada (7%) , France (5%) & Australia (4%) .


How is the duration of non-fiction VR content changing over time?
According to our data, the length of a non-fiction VR title ranges from 1 to 40 minutes, with an average of 8.9 minutes. This chart shows how the length of non-fiction VR titles has changed over time.


More to come!
This resource remains under active development and will continue to grow as our analysis continues. Keep an eye on the changelog for updates. Until then, why not explore our Non-fiction VR timeline ›.